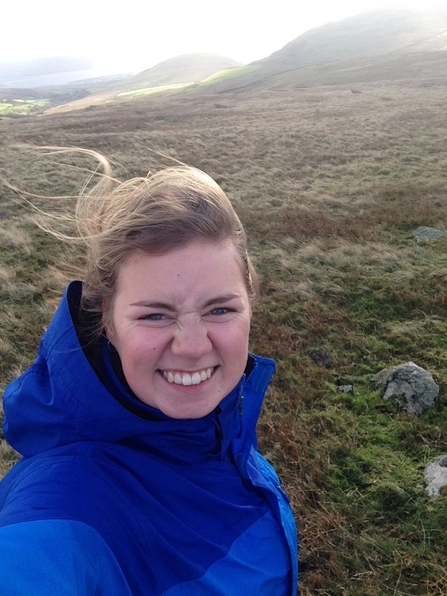 On one particularly gusty day I was actually having trouble staying upright and conducted much of the survey horizontally hoping no one was watching me, but I have still enjoyed getting outdoors and practising my wetland botany. I am hoping I will manage to get more done when the rain subsides!
I have had training on assessing the condition of wetlands and identifying habitat type but I didn't have much knowledge of restoration techniques and so I decided to go along to a peatland restoration training course down in Buxton with Penny Anderson, a very experienced and knowledgeable peatland ecologist. The day didn't get off to the best start as I somehow miscalculated and set my alarm an hour late, missing the train and having to leap into my car instead, but I did eventually manage to bumble my way there and arrived on time. The course was pretty intense as there is so much to learn but I found it very useful and really enjoyed the day, and I now have a much better understanding of the restoration techniques available. I then bumbled my way home again through a lot of traffic and deeply regretted missing the train for the whole three hours it took, but was slightly cheered by a burger stop somewhere near Burnley. The next day I managed to set my alarm an hour early instead but you'll be relieved to hear my alarm setting is now back to its old accurate self and I haven't missed anything else.
My scanning has upped the ante this month as I've realised just how many filing cabinets are left in the cellar before I've finished digitising the County Wildlife Sites so I've been feeding documents into the scanner like a mad woman. I am now over halfway through the records, very much up to date on Woman's Hour and possibly the nemesis of every other staff member who needs to use the printer.
A couple of weeks ago I went along to a woodland day held by Yorkshire Dales Millennium Trust for all of their trainees (including me) where we learned how to run woodland activities for groups. We built dens and whittled sticks into butter knives and had a very enjoyable time indeed. One of the best things about being on YDMT's trainee scheme is that there are other trainees who we get to meet up with occasionally and I always enjoy catching up with them. My favourite part of the day was eating baked potatoes and sausages and toasting marshmallows over the fire (obviously).
Our membership development officer Katie recently asked me to put together four nature activity boxes that recruiters often use at events to engage children. I made two tree themed ones, a skull one and an animal tracks one, and rushed around trying to collect leaves before they rotted away and laminate them. I have finished all the boxes except the skull and bones one which is proving more difficult to source than expected. I have a box full of mouse bones and a seal vertebra (somehow) but other than those I am so far stumped. If anyone sees a dead animal please let me know where it is and I will swoop in with my bin bag and rubber gloves and pick out the skull – lovely.
I am still in high demand for media appearances having pretty much reached celebrity status and the other day ITV Border came to Gosling Sike Farm to film a piece about the training centre we are planning to build there for young people ahead of the Big Give. I spoke about my apprenticeship and what I have gained from it but I won't know if I made the cut until it airs.