Sunbiggin Tarn at sunset wins photography competition
This dramatic view was voted winner of our 2018 wildlife photography competition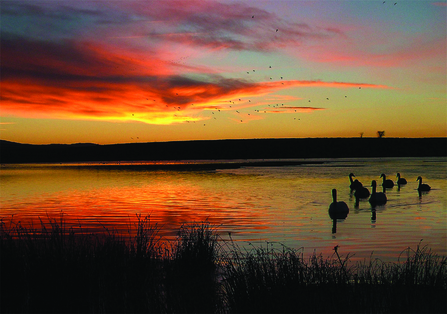 The photo was taken by Peter Boardman of Brough. He explains how he captured the stunning view of this remote lake near Orton: "Whilst I tend to concentrate on macro photography (extreme close-ups of small subjects), I also enjoy taking sunsets, especially in winter. This was taken in December and had the added bonus of a group of swans moving into the picture. I used my trusted Canon SLR and tripod with a standard lens of 50 mm. Sunbiggin Tarn is local to me and has the added advantage that it is usually devoid of people."
In a vote, Cumbria Wildlife Trust members chose Peter's photo as overall winner of our 2018 photography competition, which celebrated Cumbria's wildlife and wild places. It now appears on the cover of our 2019 calendar, which features 12 striking wildlife images, all winners in the photography competition.
Andrea Simpson, Publications Officer at Cumbria Wildlife Trust, said: "Once again we were overwhelmed at the response to our wildlife photography competition. The standard of photography was incredibly high and we are thrilled with all 12 winning entries. Peter's beautiful view of Sunbiggin Tarn at sunset is a worthy overall winner as it really captures the essence of one of Cumbria's most isolated but breath-taking wild places."
Order the Cumbria Wildlife Trust 2019 calendar online for £7.99 (plus p&p) or ring 01539 816300.