Sick seal pup rescued from Walney Island
Poorly common seal pup is rescued from beach near Barrow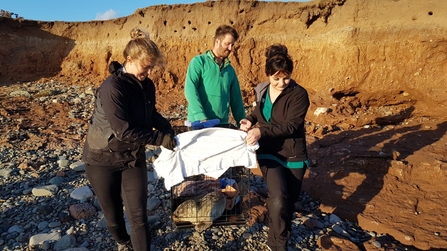 Two marine mammal experts were called on to rescue an injured seal pup on Walney Island near South End Caravan Park recently. Emily Jenkins and Emily Baxter, both Marine Mammal Medics with British Divers Marine Life Rescue (BDMLR) took the injured female to the South Lakes Veterinary Centre in Ulverston, where she was treated by vet Tracy Malham.
Dr Emily Baxter, Senior Marine Conservation Officer at Cumbria Wildlife Trust, explains: "I responded to a call from BDMLR, along with Emily Jenkins, a registered veterinary nurse at South Lakes Veterinary Centre, asking us to rescue a sick common seal pup from the beach yesterday evening. The pup was only 11.5kg so very underweight - you can see in the photos just how thin she looks. Common seals are normally about 25kg when they are weaned from their mothers. She had a high temperature and numerous bite wounds. She was taken to the South Lakes Veterinary Centre in Ulverston and given fluids, antibiotics and pain relief, her wounds were cleaned and her temperature has now reduced to normal."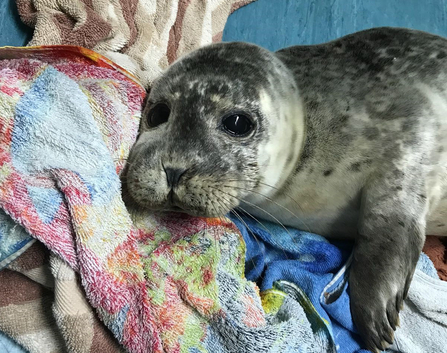 Both Emilys went back to the Veterinary Centre to give the pup more fluids and she was then taken to Stapeley Grange Wildlife Centre in Cheshire, for rehabilitation.
The rescued pup, believed to be less than a month old, is a common seal. This species is only occasionally found at South Walney Nature Reserve near Barrow, which is home to several hundred grey seals. She may have come to Walney from the Isle of Man where there is a breeding colony of common seals. Common seals are also known as harbour seals and despite their name, they are actually less common than grey seals. They can be distinguished from the grey seal by their smaller size and shorter head with a more concave forehead. Common seals have V-shaped nostrils. They are very variable in colour, from blonde to black, but generally grey with dark spots.
If you find a stranded seal which show signs of sickness, keep other people and dogs away and report it to British Divers Marine Life Rescue (BDMLR) on 01825 765546 (Monday-Friday 9am-5pm) or 07787 433412 (out of office hours and Bank Holidays).