New event to inspire girls to get out on fells
We're running our first ever practical conservation and craft day aimed specifically at girls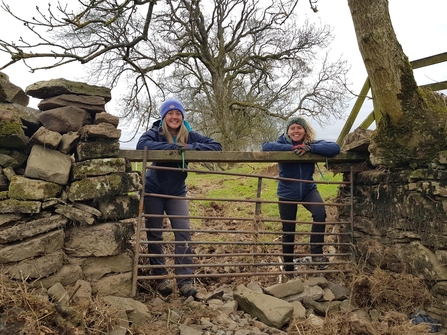 Eleven to 13-year-old girls are invited to join in a new outdoor event designed entirely for them. Girls on Fells is an innovative conservation and craft day taking place on Wednesday 18 August at Bowber Head Farm Nature Reserve in Ravenstonedale. It has been designed by two of our young conservationists who want to share their passion for nature and the outdoors and to encourage young girls to follow in their footsteps.
Keziah Taylor (23) is Apprentice Conservation Officer and Shannon Horrocks (23) is Grassland Meadow Maker Trainee for Cumbria Wildlife Trust. Keziah explains why they wanted to create this event: "In just a few months with the Trust I have learnt so much about conservation and wildlife, with guidance and help from some amazing experts, including many women. I've been so inspired by them, I wanted to encourage girls younger than me to try their hand at conservation too. At this age, they may not know what nature conservation involves or wonder whether they have the necessary skills. But our plan for the day is to give the girls confidence on the fells and also to show them how looking after nature can also be great for our mental health and wellbeing too."
The focus of Girls on Fells will be fun! It will include a taster of hands-on conservation work in the stunning surroundings of the hay meadows at Bowber Head Farm. The girls will help create space for a new species-rich habitat by clearing weeds from the site. It will also be a crafty day, with lots of art activities on offer, and a great chance to make friends. 
Shannon hopes the event will help inspire them to work in nature: "I came to Cumbria Wildlife Trust with virtually no previous conservation experience but I have always been in love with nature. I didn't know just how important it was to me until I was 18 and had left home. I felt trapped living in a concrete jungle."
She continues: "Now I can be trekking up a fell to help restore peat bogs one day and planting colourful wildflowers in a field full of bees and butterflies the next day. I am one of the lucky ones that is surrounded by nature daily! When you love what you do, it doesn't feel like work. I'm mentally and physically enriched each and every day, thanks to nature and that is why I want to protect it! Conservation is my calling because nature is my haven and now I want to share my experiences with more young girls. Maybe nature will one day be their haven too."
Girls on Fells takes place at Bowber Head Farm, Ravenstonedale on Wednesday 18 August. Pre-booking is essential, places are limited.