New café popping up near Carlisle
The Pop-Up Café is coming to Gosling Sike this autumn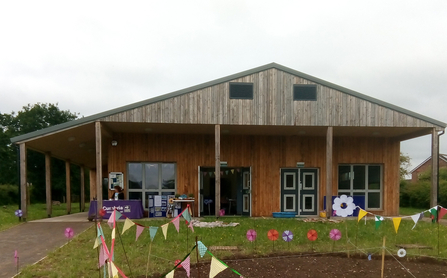 The café is at our new north Cumbrian base in Houghton village near Carlisle. It's surrounded by wetlands and woodlands, great for exploring once you've been revived by a visit to the café, and you'll also see the exciting progress of the Trust's new community garden that's being developed with volunteers.
The Pop-Up Café at Gosling Sike will be open on the following days, from 11.00am to 3.00pm:
Wednesday 19 September
Wednesday 17 October
Wednesday 21 November
Saturday 1 December, when there'll also be Christmas crafts. Try your hand at a range of craft activities. (Suggested donation £2.00 to cover materials.)
The tasty lunches and cakes are cooked by Janet Davies of Langwathby Station Café. Janet explains why she wanted to branch out into the wilder surroundings of Gosling Sike: "I went along to an open day when Gosling Sike opened last year to find out what Cumbria Wildlife Trust was planning to do there. Among other things, the Trust was keen to open up a pop-up café and I was looking for somewhere new to take my cooking, so it seemed like the ideal match. It's great to work in a nature reserve – such a different environment from what I'm used to! The pop-up café offers a nice chance for people to find out more about wildlife conservation here in Houghton, while enjoying lunch and some good home baking!"
Gosling Sike is Cumbria Wildlife Trust's new volunteer and training centre. The grounds are open to visitors, including a farm trail through the wetlands and woodland that form the adjacent nature reserve. With funding from Biffa Award and other funders, the Trust is working with community groups and volunteers to create over 3,000m2 of community wildlife garden. It will include a multi-sensory garden with wildflowers and wildlife pond, over a kilometre of accessible paths with seating and a family activity trail, and the construction of a workshop, potting shed and pergola.