Hedgehog Havens Needed Across Cumbria
Hedgehogs will soon be emerging from their annual winter hibernation.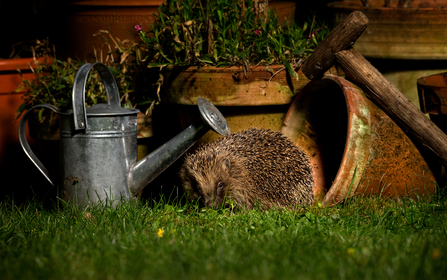 This year's early spring could mean they are already out and about looking for food.
Sadly, in the past decade alone we have lost over a half of our rural hedgehogs and a third from our towns and cities across the UK. Solid garden boundaries, tidier gardens and the intensification of agriculture are all to blame for this alarming decline. But there are ways in which you can help.
You can make your garden or back yard more hedgehog-friendly:
Create a hedgehog highway – cut a CD case-sized hole in your fence to enable hedgehogs to roam between yours and your neighbours gardens and yards
Avoid using pesticides – hedgehogs are natural pest controllers
Provide nesting sites – logs, piles of leaves and wilderness areas make great places for hedgehogs to nest and hibernate
Let your grass grow a little wild – it's an important home for hedgehog prey
Set up a feeding station with hedgehog food or meaty pet food and clean water
Cumbria Wildlife Trust has been tracking the location of hedgehogs across the county via their survey website for the last three years.
Charlotte Rowley from Cumbria Wildlife Trust says: "Our iSpy a Hedgehog survey website has been hugely popular with Cumbrians. 1,897 sightings have been submitted over the last three years from people who are actively encouraging hedgehogs to their gardens and to those who have happened to come a across a dead hog in the road. On average, 80% of the sightings have been of a live hedgehog which is wonderful to know. The people of Kendal are the most active in submitting their sightings, followed by Kirkby Stephen, Carlisle, Penrith and Cockermouth. 
"Hedgehogs will be emerging from hibernation soon and so now is a great time to be putting food out in your gardens as the hogs will be hungry and be getting ready to breed.  Provide shelter for new mums with hoglets and you may even get to see a few little cute ones!"
As well as logging your hedgehog sighting at http://hedgehogs.cumbriawildlifetrust.org.uk, share your photos and footage with Cumbria Wildlife Trust using the hashtag #CumbriaHedgehogs
1,897 sightings have been submitted over the last three years from people who are actively encouraging hedgehogs to their gardens