Get Cumbria Buzzing wins top award from Highways England
The award is for work done with Highways England and contractors Ground Control to improve habitats for pollinating insects on Cumbria's A-roads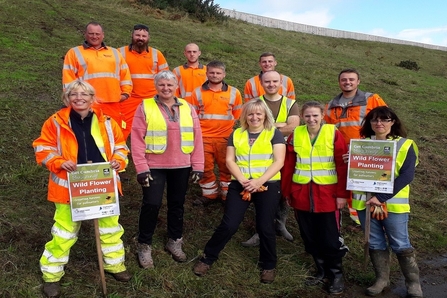 Judges noted that Get Cumbria Buzzing was a very impressive collaborative project that is delivering significant benefits to the community and environment through partnership working.
Dean Kerwick-Chrisp, Highways England Principal Environmental Advisor, said: "This project shows partnership working at its very best and everyone involved can be very proud of what they have achieved. Working with wildlife organisations, community groups and our contractors, we have been able to agree the best locations, the right methods and the correct plant species to make sure we get the best outcome to restore the balance of biodiversity in the area. This has contributed to the National Pollinator Strategy which is vital for helping pollinating insects survive and thrive and the species-rich habitat will noticeably improve the journey for drivers too."
Tanya St. Pierre, Get Cumbria Buzzing Project Manager, said,
"To receive such a prestigious national award is a real accolade, and stands testament to the hard work, dedication and close partnership working by everyone involved. We're absolutely thrilled. Not only does this work help to contribute to delivering 115 hectares of pollinator-friendly habitat across north west Cumbria, it also connects communities, organisations, and industries in a shared objective of taking action for pollinators, delivering the vital work on the ground needed to help safeguard their future."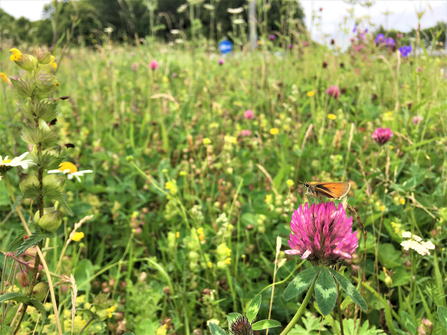 Get Cumbria Buzzing is a three-year partnership project (2019-2022) which aims to increase the number and variety of pollinators such as bees and butterflies across the north west of the county.
Work to create a range of wildlife habitat along the A595 and A66 has been enthusiastically supported by Highways England and its contractors Ground Control and HW Martin, who have adjusted ways of working to help wildlife flourish, as well as reporting wildlife sightings and protecting wild flowers from cutting activities.
Working closely with Cumbria Wildlife Trust and a number of other partners, individual management plans were developed for each site along the roads which will help wild flowers flourish and provide habitat for pollinators and other wildlife.
Highways England also contributed £860,000 from its Designated Funds programme to the project which helped secure a successful application for £912,800 from the National Lottery Heritage Fund.
Just over 39 hectares of habitat have been improved along A595 and A66 with the addition of native nectar and pollen rich trees, a wide range of wildflower and species-rich grassland that will provide 'stepping stones' of habitats that allow wildlife and pollinators to move around the landscape.
The project was one of 30 initiatives rewarded at the third Highways England Awards, designed to recognise activities which further the company's imperatives of safety, customer service and delivery. This year the award ceremony was held online.
Other winners in the delivery category included a pilot project to assess cutting edge sensor technology, which can measure tyre pressure and tread depth at depots and service areas. This initiative, which reviewed Highway's England asphalt specification, resulted in changes that have significantly increased road surface durability and a campaign designed to attract women returning to work into a career in science, technology, engineering, and mathematics (STEM).
Teams from within Highways England, as well as its supply chain partners, were among those recognised in the awards. In total there were 370 entries and 30 awards were presented.

The Get Cumbria Buzzing project has been made possible thanks to support and funding from The National Lottery Heritage Fund and Highways England. Our partners include: Carlisle City Council, Copeland Borough Council, Allerdale Borough Council, Solway Coast AONB, Butterfly Conservation, Buglife, Cumbria Biodiversity Centre, Highways England, Workington Nature Partnership, National Trust and Florence Arts Centre.