First ever SeaFest is a hit at St Bees
There was fun for all the family recently at SeaFest: West Cumbria's Festival of the Sea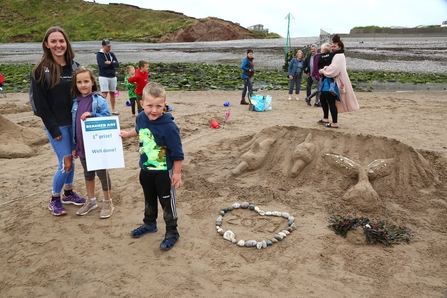 We hosted our very first SeaFest: West Cumbria's Festival of the Sea at St Bees beach recently. The event was attended by around 200 people, with a range of activities exploring our connection with the big ocean blue. They included beach yoga, sustainable seafood demonstrations, marine-themed arts and crafts, guided walks and wildlife watching, and the famous Beached Art sand sculpture competition. 
Lucy Mather, Project Officer for Cumbria Wildlife Trust who organised SeaFest said: "We were delighted with our first ever SeaFest! It was a fantastic year for the Beached Art competition, with 19 families taking part, and some of the best sand sculptures we have ever seen! The judges had a tough time deciding the winners."
Prizes were awarded to the following pieces:
1  Wave riders by the Ramsden family who won a trip on the Keswick launch
2  Bottlenose dolphin by the Hart family who won a day out at the Lake District Coast Aquarium
3  Hermit crab by the Walker family who won a year's membership to Whinlatter forest
4  Turtle and jellyfish by the Gunson family (bonus prize) who won a cafe voucher and bespoke art supplies from Florence Arts Centre
Lucy continued: "The sustainable seafood tasters, a new addition this year, were a roaring success, with over 200 portions of delicious local seafood being given out, and attendees gathering tips on how to cook creel-caught langoustine, local lobster, and even fillets of fresh seabass, line-caught by our fantastic fisherman Andy Bell, who is working with Cumbria Wildlife Trust to develop sustainable fishing methods and protect the muddy undersea habitats off the Cumbrian coast."
Rockpools were a major feature of the event, with drop-in rockpooling throughout the day down on the beach, and a mobile rockpool and touch tank run by Lake District Coast Aquarium, where participants could hold a range of hardy rockpool wildlife including starfish, crabs, and prawns. 
For those feeling creative, the arts and crafts tent had a range of activities to offer, including pebble painting, jellyfish making, and even marine litter mosaics run by our guest artist Amy Linton, a St Bees litter champion who used plastic gathered from previous beach cleans to create temporary art pieces on the beachfront!
SeaFest will return in 2022 for more celebration of marine wildlife, sustainable seafood, and the incredible Cumbrian coastline.
SeaFest was part of National Marine Week, which continues until Sunday 8 August.