Cumbria Dark Skies Festival is a hit
The success of Cumbria's third Dark Skies Festival, held from 5-14 November, shows that people want to get outside and experience nature and wildlife in the dark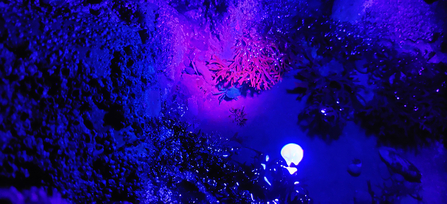 We've recently taken part in the Cumbria Dark Skies Festival, in partnership with Friends of the Lake District, Cumbria Tourism, Forestry England  and the Lake District National Park. 
Several hundred people attended activities and events spread all across the county, from Parton (Whitehaven) and Ennerdale Bridge in the west, to Coniston, Glenridding and Grizedale and Whinlatter in the Lake District National Park.
A diverse line up of events entertained the young and old, local residents and staying visitors alike. Enjoyment of the dark environment and wildlife in woodlands and forests was popular, with events at our nature reserves at Arnside and Staveley, Forest England's Grizedale and Whinlatter forests, and a Loweswater walk for the Melbreak Community dark skies group, led by Friends of the Lake District Patron John Macfarlane and National Trust Ranger Mark Astley. Festival participants also enjoyed canoeing in the dark, wood whittling and stargazing, and dark skies art workshops.
More unusual events included a temporary art installation 'Intrastellar' (meaning 'within the stars') at Grizedale Forest tarn, a floating artwork of sensitively illuminated spheres on the mirrored surface of tarn, forming a spectacular interaction with the stars, which 100 people attended on the day.
We held a night time rockpooling event, using UV light in rockpools on the beach to see the active night-time creatures, such as luminesant prawns, starfish, sea urchins and velvet swimming crabs. The event was so popular that we are planning to hold it again in December.
The Moonwatch with the Eddington Astronomical Society, the only event cancelled due to cloud cover, will be postponed until early January.
Wildlife themed night time events were a real hit with many people, with all of the 'walking in the woods in the dark' events selling out. Participants were fascinated to hear tawny owls in the woods and see Daubenton's bats ('water bats') skimming and looping over Loweswater.
Andrea Simpson, of Cumbria Wildlife Trust said: "Our eyesight is poor in darkness compared to the many species of wildlife active at night. Enjoying the night-time environment involves an element of awe and respect for these creatures of the night. Fortunately many of our nature reserves are intrinsically dark places where wildlife is unaffected by light pollution, so what better places to explore with friends and family.'"
Some of the positive feedback from Dark Skies Festival event participants last week:
'What a beautiful evening last night – stars, owls, hot chocolate, cakes, poetry, music, a super walk and even a black cap [warbler]! Thank you both very, very much.' (Holme Wood Walk, Loweswater)
'Instrastellar by Steve Messam.....truly awesome, inspiring, hynoptic, peaceful, beautiful, ever changing light as it got dark, reflections, breeze, movement, stunning. (Intrastellar display on Grizedale Tarn, Grizedale Forest).
Plans are underway for the next Cumbria Dark Skies Festival which will be from 12-26 February 2022, combining online talks and outdoor activities, and a community lights switch off. Any tourism businesses who would like to host a Dark Skies event then please submit the details of event using the online form here or please contact Francine Bult at Cumbria Tourism  to find out more on how you can get involved.
The Dark Skies Cumbria festival is a partnership of Friends of the Lake District, Cumbria Tourism, Forestry England, Cumbria Wildlife Trust, and the Lake District National Park.