Come and join us at SeaFest – west Cumbria's festival of the sea
Join us at St Bees beach for a full-day celebration of marine wildlife, sustainable seafood and the big ocean blue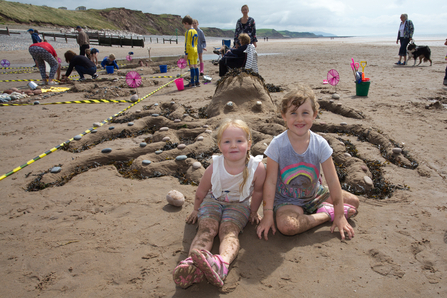 We invite you to bring the family and join us at SeaFest, an action-packed festival celebrating sustainable seafood and marine wildlife. It takes place on St Bees Beach on Saturday 31 July, from 10.00am to 4.00pm. A highlight will be Beached Art, our popular sand sculpture competition, but this year there'll be lots of exciting new activities for you to enjoy too.
SeaFest has been created by Lucy Mather, Project Officer for Cumbria Wildlife Trust. Lucy explains what's in store at this new-look family-friendly festival: "We wanted to celebrate our wonderful Irish Sea, with some long-standing family favourites, like Beached Art – a chance to unleash your creativity by making marine-themed sand sculptures, using just natural materials you find on the beach. Don't forget to book your pitch in advance! We've got some great new events this year too. We'll be kicking off with beach yoga or a jog and a dip in the sea and we'll be offering cooking demonstrations and tasters from a local chef, who will show you how to make delicious dishes using local sustainable seafood. Other popular activities will include rockpool rambles, walks on the cliffs to see the beautiful nesting bird colonies, and you can even drop in to our sea watch survey to see if you can spot a porpoise or dolphin. There'll be more surprises to come, so watch this space!"
SeaFest is free and there's no need to book in advance – but you do need to pre-book your pitch for Beached Art. Please note dogs are welcome at SeaFest as long as they're on leads.
SeaFest is part of National Marine Week, a UK-wide celebration of our seas run by the Wildlife Trusts. Despite the name, National Marine Week actually runs for 16 fun-filled days (24 July to 8 August) to allow for the variation in tide times around the country. We are running a range of sea-related events during these two weeks, including:
Sea Watch: drop-in dolphin surveys, Whitehaven, Saturday 24 July
BioBlitz: Rockpooling and drop-in marine wildlife survey, Parton Beach near Whitehaven, Thursday 29 July
Dune Detectives, South Walney, Tuesday 3 August (booking required)
Tale Trail: The Secret of the Sea, Thursday 5 August, family activity trail for little beach explorers at St Bees (booking required) 
Sand Dune Nature Trail, Sandscale Hawes National Nature Reserve, Friday 6 August (booking required)
Online events for National Marine Week (unlimited numbers, but pre-booking required) will include a separate online Beached Art sand sculpture competition, so if you can't make it to St Bees but can get to a local beach – or even a sandpit in your garden – you can still take part! Details of the online competition here. 
We are also running Litter Critters in west Cumbria, from Friday 6 to Sunday 22 August – a self-led nature challenge combining a beach clean and craft competition. And if you want to head out exploring the wildlife on your doorstep, we have produced "Coastal Explorer" activity guides and spotter sheets for children, which you can use at any coastline near you!
Find out more about all of our events  
Can you make your own mini coastal documentary? The Wildlife Trusts are asking you to celebrate our wonderful blue planet by making a one-minute long marine movie and posting it on Instagram or Twitter using #NationalMarineWeek for a chance to be featured on our social media channels, and to win a prize. More details here.   
Checklist for the seaside: Bucket and spade, bare feet for the sand, beach shoes for rockpools. Tide timetables or local knowledge can prevent accidents - do your research in advance. Keep away from cliffs. Waterproofs and woollens are a must for a boat trip, no matter how optimistic the forecast!
Remember to follow the seashore code and handle all wildlife with care. When rockpooling, only keep one animal in a bucket at any one time and make sure to put everything back exactly where you found it. Watch out for spines, pincers and tentacles which may sting! Take your litter home, and check whether dogs are allowed on beaches.