Celebrating our wonderful hay meadows
National Meadows Day takes place on Saturday 7 July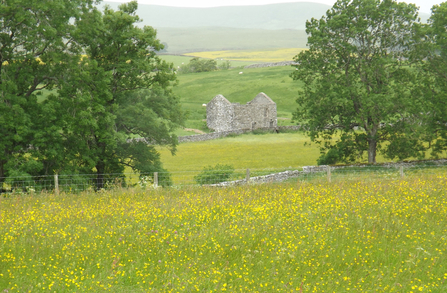 National Meadows Day is a chance for people all over the country to celebrate these important natural habitats. It is estimated that 97% of flower-rich hay meadows were lost between the 1930s and the mid 1980s. On National Meadows Day, we are running two events to celebrate Cumbrian meadows and to show how the Trust is helping to conserve them.
The Coronation Meadows Open Day at Piper Hole Farm, Ravenstonedale takes place on 7 July from 10.00am–4.00pm. Christa Nelson, Grassland Conservation Officer at Cumbria Wildlife Trust explains: "Coronation Meadows was a project launched by Prince Charles to nominate a hay meadow in every county in the UK, in celebration of the 60th anniversary of the Queen's Coronation. Piper Hole at Ravenstonedale became Cumbria's official Coronation Meadow and was the place where we collected donor seeds to create wonderful new meadows, like the one at Eycott Hill Nature Reserve near Mungrisdale".
Piper Hole Farm is a great place to see herbs, such as great burnet, which has earnt it the local name 'herbie meadow'. You'll also see species such as yellow rattle, meadow buttercup and pignut. The event will include guided walks and staff members will be on hand to talk about their work on the new Meadow Life project.
There's also a Magnificent Meadows Textile Workshop at Mungrisdale Village Hall, on 7 July from 10.00am–4.00pm. You will be able to create a wall hanging inspired by the flower-rich meadows at Eycott Hill Nature Reserve. The workshop, which will be led by artist Sarah Colgate, will use techniques including sketching, applique, embroidery and watercolour. Booking is required.
There are further hay meadow events taking place throughout July at Eycott Hill Nature Reserve, including an Incredible Insects Bioblitz (8 July), meadow surveys (4, 12 and 17 July) and a 'meadow meander' guided walk (17 July).
For details of all events, see our events guide, email us or ring 01539 816300.
It's estimated that 97% of flower-rich hay meadows were lost between the 1930s and the mid 1980s