Bee friendly Gardening Fun Day
Join us at our family-friendly event in Workington where we'll get people buzzing about pollinators!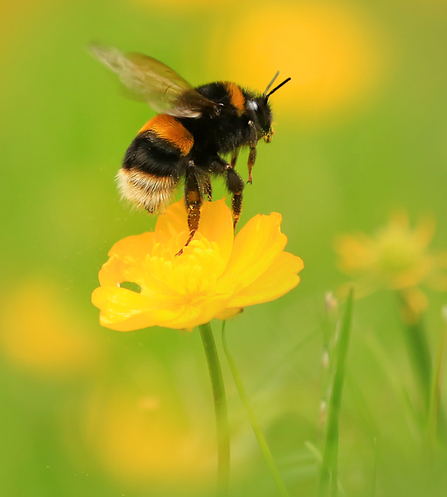 Our Bee-Friendly Gardening Fun Day will be held on Saturday 29 September from 11.00am to 4.00pm at Vulcan Park, Workington, in conjunction with Workington Town Council. You can find out how to attract bees to your garden, window box or yard. There will be lots of free activities for children, including face-painting by the wonderful Ann Holmes of Moss Bay Arts Workington and arts and crafts by the fabulous Rainbow Jelly Productions.
Lucy Graham, Coastlines Development Officer at Cumbria Wildlife Trust explains why we should be encouraging bees: "Pollinators – from birds, bats to bees, butterflies and beetles – may be small but they're hugely important. They are responsible for bringing us one out of every three bites of food! These little creatures, which travel from plant to plant carrying pollen on their bodies, are vital for the ecosystem and they need our protection. At this fun-filled day we'll tell you more about why bees matter and how we can all help them."
You can help plant bee-friendly wildflowers in the park throughout the day – there are over 350 wildflower plugs which need planting! You'll also be able to claim your free pack of Cumbria wildflower seed packets. The Mayor of Workington, Cllr Barbara Cannon, will be cutting the ribbon for the opening event. 
Come and chat to Alison Saxby, the Estate Team Leader about the Town Council's work for the Workington In Bloom scheme, find out how you can get involved and there'll be handy hints and tips for aspiring gardeners. 
Everyone is welcome to attend and there's no need to book, just turn up on the day. The event is free of charge, thanks to Highways England, National Lottery Players and support from the Heritage Lottery Fund.
For more information contact Lucy Graham, Coastlines Development Officer, Cumbria Wildlife Trust on 01228 829570 or email Lucy at lucyg@cumbriawildlifetrust.org.uk
Pollinators like bees are responsible for bringing us one out of every three bites of food!

Coastlines Development Officer, Cumbria Wildlife Trust