Working with primary schools to enhance outdoor learning
We deliver wildlife workshops and field trips to primary schools
Every school can benefit from our wildlife-based education activities. We can visit your school, grounds or local green spaces to deliver engaging and exciting outdoor learning for your classes.
Contact Jamie Normington Senior Education and Volunteer Officer
We can visit sites with you or join your field trips – we have worked in so many areas from the Solway to Morecambe Bay and in the Lake District National Park, in nature reserves, parks, public spaces and school grounds.
Why bring a wildlife workshop into the classroom?
We have developed two new themes this year – one focusing on the global Climate Emergency and one on the award-winning book by Jackie Morris & Robert MacFarlane "The Lost Words" – the best way to link young people with nature art, poetry and words.
Our wildlife workshops have strong curriculum links – from habitats to hedgehogs, nocturnal wildlife to plants, extinction and more in science, but can also support your themed projects, eco-work and learning outside the classroom, providing creative inspiration for your literacy and artistic work.
Tell me more

Young people are now very aware and involved in their environment, from climate strikes to petitions and awareness of issues such as plastic pollution, fossil fuels and the need for conservation.

Many schools are members of Wildlife Watch – our junior membership scheme - and receive termly materials to help with their classes and after-school clubs. We also offer a terrific awards scheme suitable for all ages and abilities, and can support those working towards the John Muir Award.

We have a "Friends of the Ospreys" scheme for schools – linked to our award-winning nature reserve at Foulshaw Moss and how it helps these migratory birds to thrive once more in the UK. A great way to link your school with Europe, Africa and the wider world.
What is the content of a typical wildlife workshop?
Each workshop includes a range of engaging activities to ensure all children can take part and learn at their own pace. Our visits are individually tailored to your needs through prior discussion. We welcome your requests!
Our most popular sessions are "Habitats", "The Lost Words" and "Seaside & Marine Wildlife", but we also offer insects, birds and nocturnal themes.
Tell me more

A typical workshop includes a range of activities to enhance learning through interactive discussion, practical tasks and creative games.

We will present real-life issues and where possible, exciting artefacts for children to study.

Some workshops have wonderful interactive costumes as part of the session - prepare to become a 6 foot tall tree, wildflower, bat or insect!

We can visit sites with you or join your field trips – we've worked everywhere from the Solway to Morecambe Bay and in the Lake District National Park, in nature reserves, parks, public spaces and school grounds.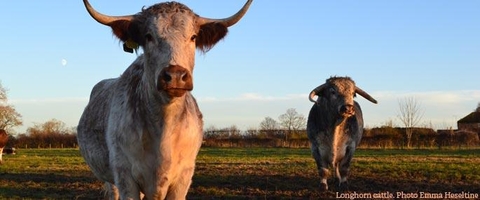 Farm Visits
There are a number of excellent farms in Cumbria that welcome schools and groups. Some farms are eligible to apply for government funding on your behalf to help pay for your visit, so please ask for details when making any enquiries.
Here's a shortlist that we'd currently recommend if you were interested in taking your group to a local farm (there are others too, but it may be that we haven't visited or found them just yet). There are many people doing great things with outdoor education in Cumbria. Please let us know if you think we should include anyone we've not mentioned below.
Carlisle Area: Susan's farm, Houghton
Susan's Farm specialises in pre-booked primary school visits, care farming for all ages and alternative education provision for secondary pupils.
Tell me more

Susan's Farm has worked with thousands of people each year for many years, and received numerous national and local awards for its work. There are impressive indoor facilities including  a wonderful kitchen where food can be cooked for and even by visitors in the "gather, prepare, cook and eat" sessions which help them to learn all about food 'from field to plate'.

This organic farm specialises in linking healthy soil to healthy children through healthy food. There are longhorn cattle, sheep, geese, hens and a fruit and vegetable business on the farm, as well as lots of wildlife habitat, from impressive hedges to a series of ponds and a woodland.
Penrith area: Herdwick School, Matterdale
Part of a traditional Lake District farm with Herdwick sheep and more. Helen Rebanks welcomes pre-booked visits from schools, groups and families to come and learn more about this landscape, nature friendly farming, food, wool and a range of other interesting things, linked to the school curriculum.
Tell me more

They have indoor facilities in their 'sheep shed school' with everything you'd need for your visit.

Alongside the role this farm plays in the Lake District UNESCO world heritage site, Helen & James have also been working with a number of partners to develop the latest ideas to help local wildlife and habitats, and to help people consider what the future of Lake District farming will look like.
Kendal area: Strickley Farm, Old Hutton
This organic dairy farm is run by James & Michelle Robinson. Michelle is also an experienced primary school teacher and offers farming and wildlife-based visits which can be fully funded by Natural England.
Tell me more

It's a working dairy farm with shorthorn cattle and some excellent wildlife habitats, created and cared for by the Robinson family since Victorian times. Strickley has full classroom and WC facilities available.

Visit themes offered include food, animal welfare, wildlife & habitats and more.