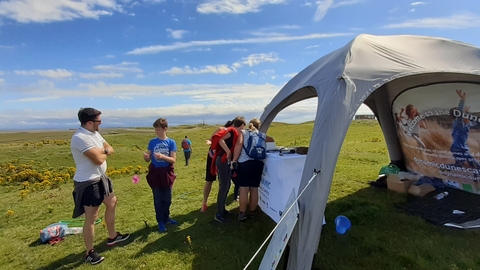 Dynamic Dunescapes - Restoration Remix workshop
Location:
Sea View,
Haverigg,
Millom,
Cumbria,
LA18 4ES
Join us for short workshop with singer Jo Wade and artist Irene Rogan and take part in a sound performance on the dunes.
Event details
About the event
Take part in a short sound and performance workshop with singer Jo Wade. Come along and give it a go, sing and play percussion. All welcome. No experience necessary.
Take part in and perform on the dunes later in the day (2–3 pm) alongside musicians, artists and drummers.
Restoration Remix is a sound performance taking place at the dunes in Haverigg, performed by Neil and Jo Wade musician and singer, Dave Baker acoustic drummer, Irene Rogan environmental artist and singer songwriter Hannah Rose Kessler. Local residents and visitors are offered an opportunity to participate and contribute to the work. 
The sound performance and singing is inspired by William Blakes poem Auguries of Innocence, a poem on mankind and nature, the poet proffers the argument that the natural world can be regenerated in time and that nature itself can be an augury to the lost vision of innocence. The phrasing of the title is the strongest example of this theme, for here, the word "innocence" signifies man in the unfallen state.
To see a World in a Grain of Sand
And a Heaven in a Wild Flower
Hold Infinity in the palm of your hand
And Eternity in an hour
Booking essential. Limited spaces available.
Please do not attend if you show symptoms of Covid or have been in contact with anybody with Covid.
The performance is taking place as part of Unpublished Tour supported by Dynamic Dunescapes.
Dynamic Dunescapes is supported by the National Lottery Heritage Fund and the EU LIFE Programme. The project is a partnership between Natural England, Plantlife, National Trust, Natural Resources Wales and the Wildlife Trusts.
Booking
Price
Free to attend. Donations to Cumbria Wildlife Trust welcome.
Suitable for
Families, Adults
Know before you go
Parking information
Free parking