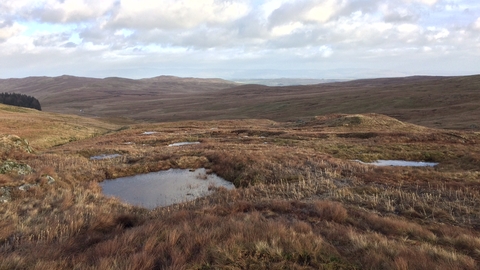 Shap Fells Conservation Day
Location:
Shap Fells,
Wet Sleddale
Surveying the completed earthworks to monitor success (no specialist knowledge required).
Event details
About the event
Over the winter we have been working with contractors with excavators to restore an area of badly damaged peatland on the fells to the south west of Shap near Haweswater Reservoir.  Part of this work involved creating small turf bunds that water can collect behind to keep the peat saturated and stop it eroding further.  
We will be surveying the completed earthworks to monitor success (no specialist knowledge required).
Meet in the southbound layby on the summit of the A6 heading towards Kendal. OS Grid Ref: NY 55381 06257. Walking time to site is approx. 1.5 hours to about 585m elevation (total 6 miles).
Our conservation days are a great chance for keen fell walkers to have a day out, see some conservation projects first hand, plus spend a few hours doing your bit to help us with our work. All attendees must be fit enough to spend a day walking in the fells safely, and not mind getting muddy. These are remote sites and will have no indoor facilities. 
Booking is essential for these events, as they may get cancelled at short notice due to weather or if no-one books on.
For all events ensure that you bring a packed lunch, waterproof walking boots/ wellingtons and appropriate warm waterproof outdoor clothing, ideally with some spare clothes.
All conservation days will be conducted in a safe and socially distanced manner.  Please ensure you bring hand sanitiser along and not share lunches and equipment.  We would also ask that people follow government guidance and not attend if you have any Covid-19 symptoms or are required to self-isolate. Thank you.
Unfortunately, due to current circumstances we will not be able to offer lifts at this time.