A wonderful opportunity to double your donation to Smardale Nature Reserve.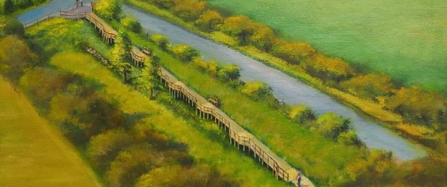 A generous individual has stepped forward to pledge £5,000 and has said this is conditional that this is matched by monies from others supporters like you.
Earlier this year, Peter Bullard put out a call to help raise £33,000 match funding needed for the work to improve Smardale Nature Reserve. We are currently £10,000 short of reaching this target.
A generous individual has just stepped forward and has pledged £5,000 on the condition that we receive donations to match this. If we are able to do this – the shortfall would be met.
Any donations, up to a total of £5,000, made between the 29th August and mid-October will be matched £1 for £1.
This chance to double your gift will make a huge difference to what can be achieved.  Please will you support Smardale Nature Reserve by making a donation today? 
 
Any donations, up to a total of £5,000, made between the 29th August and mid-October will be matched £1 for £1
Your chance to DOUBLE your donation to help improve Smardale Nature Reserve.  Will you help with this final push to reach our fundraising target?
The money raised will improve the new land at Smardale Nature Reserve to make it both a haven for wildlife and also give the access needed for people.
On such a long linear reserve, where bridges have been removed and railway banking has collapsed, there is much to do to reinstate the access. Smardale is also one of our most easily accessible nature reserves as it has a wheelchair accessible path along its length. So, of course, this gem of a nature reserve attracts thousands of visitors each year which leaves us with problems: there is no parking and the extension, although brilliant for wildlife, is not accessible to walkers and wheelchairs.
Initially, we are concentrating on creating a long length of boardwalk which will give access from Smardale onto the new land and will link to a new car park. This is so you may easily access the new section of railway line and see the wildlife and geological interest we are so impressed with.
By next spring, we also plan to put in place new information panels telling you more about this surprisingly different area of the nature reserve, along with a red squirrel feeding station. The nature reserve supports an important population of red squirrels - you might spot them feasting on hazelnuts. The feeding station will provide food for these marvellous creatures and will give you a place to more easily spot them.
We now have a really exciting opportunity because a generous supporter has promised to match every donation £1 for £1 up to a total of £5,000.