Vital works being carried out in Staveley Woodlands
Access to Craggy Wood remains open while vital work is carried out to remove diseased larch trees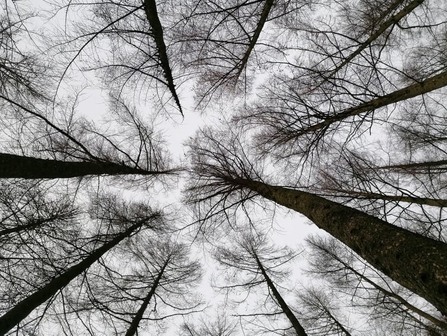 Luckily there is only a small portion of Craggy Wood that is planted with larch so the woodland on the whole will stay the same.

Staveley Woodlands Officer
Craggy wood in Staveley Woodlands has been identified, along with other woods in the Kentmere Valley, as having the notifiable disease Larch Dieback (Phytophthora ramorum).  
This is a highly destructive disease and can kill over 100 species of plant. Unfortunately this means we need to either kill the larch trees or fell and extract them. 
After lengthy discussions, it has been decided to fell and extract the trees, to stop the disease spreading further and hopefully protect the remaining larch in the valley. Danielle Chalmers, Staveley Woodlands Officer for Cumbria Wildlife Trust, said: "Luckily there is only a small portion of Craggy Wood that is planted with larch so the woodland on the whole will stay the same. Once felled, it will be lovely to see the area re-wild and species grow back that may have been blocked out by the larch before. The diversity of the woodland flora and fauna will really increase in that area. During the felling and extraction time, to keep everyone safe and to make sure the woods remain open for everyone to enjoy, we have put in a path that leads left from the Craggy Wood gate and takes you up to the top path, avoiding the work area."
The felling work will commence on 1 September for a month, but the extraction of the trees may continue up until 31 October, to enable us to try and do as little damage to the woods and surrounding field as possible.
Danni will be available to chat to about this work in Staveley playing fields on Saturday 28 August from 10.00am till 12.00 noon. Please come along and find out more about the work being done, the future of the woods and voice any concerns you may have. Alternatively you can contact Danni by email: daniellec@cumbriawildlifetrust.org.uk.