Trust wins Bronze at national film award ceremony
Our bee-friendly animation has been awarded Bronze in the People's Choice award at UK-wide Charity Film Awards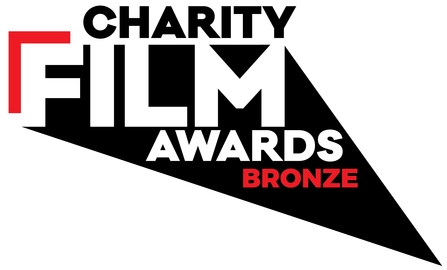 Winning Bronze in the People's Choice award has given Get Cumbria Buzzing a great boost, really putting us in the national spotlight

Project Manger, Get Cumbria Buzzing
We're proud to announce that our Get Cumbria Buzzing bee-friendly animation was awarded Bronze by members of the public, in the UK-wide Charity Film Awards 2020, which were broadcast live online on 21 April.
Tanya St. Pierre, Project Manager for Get Cumbria Buzzing, said: "A huge thank you to all Cumbrians who voted for our animation – and to BBC Radio Cumbria who did a great job getting their listeners involved. We're thrilled that the public has voted in such huge numbers for us! Thank you also to Haltwhistle Film Project who helped create such a fun and inspiring bee-friendly animation, and to all our funders who have made Get Cumbria Buzzing project possible.
"Winning Bronze in the People's Choice award has given Get Cumbria Buzzing a great boost, really putting us in the national spotlight. Now, more people than ever are aware of how important our pollinators are and have shown that they want to do something to help. The Charity Film Awards ceremony was a great evening – what a wonderful and positive way to unite people across our county, and nationwide as well, during these challenging times."
The short film is part of the Get Cumbria Buzzing campaign, designed to raise awareness of the serious decline in the numbers of bees and other pollinating insects and to inspire people to take positive action to create wildflower-rich habitats.
Tanya explains why the Get Cumbria Buzzing project matters: "More than half of UK bee, butterfly and moth species have declined in the past 50 years, and 30 species of bees face extinction. Over the last 75 years we've lost 97% of our flower rich meadows, 50% of our hedgerows, and 60% of flowering plants are in decline. This project will create 115 hectares of wildflower-rich habitat in Cumbria to help boost pollinators."
Cumbrians are being encouraged to grow pollinator-friendly plants in their backyards, gardens and window boxes. They can log their planting on a newly-created online pollinator map of Cumbria, showing where bee-friendly planting is taking place. The pollinator map can be found at 
Get Cumbria Buzzing is a ground-breaking, three-year project which aims to get parks, school grounds and other green spaces around north and west Cumbria buzzing with bees and pollinators. Cumbria Local Nature Partnership is working with Highways England and Cumbria Wildlife Trust to get local people buzzing with activity to boost numbers of bumblebees and other wild pollinators and halt their decline. Cumbria Local Nature Partnership and  Cumbria Wildlife Trust are bringing together a wealth of experience including Allerdale Borough Council, Buglife, Butterfly Conservation, Copeland Borough Council, Cumbria Biodiversity Data Centre, Florence Arts Centre, Highways England, National Trust, Solway AONB and Workington Nature Partnership.
This £1.6 million project is made possible by National Lottery Players and support from the National Lottery Heritage Fund, Highways England, Cumbria Waste Management Environment Trust, Rees Jeffreys Road Fund, Tesco, Allerdale Borough Council, Solway Coast AONB and The Hadfield Trust.
Administered by Cumbria Community Foundation, the following organisations are also funding the project: Fairfield Wind Farm Community Benefit Fund, Robin Rigg West Cumbria Fund, Winscales Moor Community Benefit Fund and United Utilities Legacy Fund.