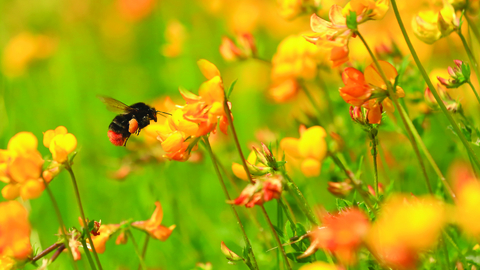 Get Cumbria Buzzing - recruitment and training for pollinator recording volunteers
Location:
Virtual Online Talk,
Plumgarths
Crook Road
,
Kendal,
Cumbria,
LA8 8LX
Book
We're looking for volunteer recorders to survey pollinators in northwest Cumbria. Come along to this training event to learn more.
About the event
Do you live in or near northwest Cumbria? As part of Get Cumbria Buzzing project we are looking to recruit volunteer recorders to survey and monitor pollinators along transects within our project area next summer (see map). This initial training event will provide you with the skills to select a transect, and the knowledge of how to survey and record pollinators along a transect. Ongoing training and support will be provided throughout the season, with identification and training webinars, and field outings where possible.
Ideally volunteers will have a basic understanding of the different pollinator groups, or may wish to recording just one group e.g. butterflies or bumblebees.  Volunteers are encouraged to survey transects on a regular basis throughout the season, either weekly or monthly depending upon how much time they have available. A volunteer pack will be provided containing ID guides, recording sheets and information, plus helpful hints and tips, along with links to Get Cumbria Buzzing iNaturalist blog and facebook page.
Many pollinator species are under-recorded in Cumbria, helping to survey and monitor species in this area will provide vital information on pollinator populations and distribution. All records will be added to the Cumbria Biodiversity Data Centre database, contributing to county and national records, helping to inform future conservation efforts.
This training event will take place online, so you can join the team from the comfort of your own home. You will need to book in advance. Details of how to join the training will be provided in your booking confirmation email.
Booking