We need an immediate end to peat sales
Peat used in our compost is dug out of wild places, damaging some of the last remaining peatlands in the UK and overseas. This process also releases carbon into the atmosphere, accelerating climate change.
Ten years ago, the Government set a voluntary target for the horticulture sector to stop selling peat compost to gardeners by 2020. But this approach has failed. The Government recently announced a ban of peat compost sales to the public in 2024, but we want an immediate ban.
Action is needed now to end peat compost sales in our shops and garden centres immediately and to bring forward the date that professional growers must stop using peat.
Does your local garden centre stock peat free compost?
We are creating a list of all the brilliant garden centres in Cumbria which stock peat free compost. This will help us to spread the word on the best places to buy it and hopefully get more people to purchase it in the future. Here's our list so far:
Abbi and Toms Garden Plants - Halecat & Grange
Witherslack & Grange over Sands
Dalefoot Composts & Sylvagrow
Beetham Nurseries
Milnthorpe
Dalefoot Composts
Brampton Wood Fuels
Brampton
Dalefoot Composts
Ellie's Hill foot Garden Centre
Ulverston
Miracle Grow
Poltross Enterprises
Haltwhistle
Hayes Garden World
Ambleside 
Dalefoot Composts, Westlands New Horizon and Sylva Grow
Mad Hatters Hardware
Alston
Dalefoot Composts
Oakhurst garden centre
Cockermouth
Dalefoot Composts & Westlands New Horizon
Pigney
Appleby-in-Westmorland
Ewe grow, Westlands New Horizon
The Pot Place
Plumpton
Dalefoot Composts, Westlands New Horizon and Ewe Grow
Whitehaven Garden Centre
Whitehaven
Dalefoot Composts and Sylva Grow
Woodlands 
Milnthorpe 
Happy Veg, Miracle Gro, Dalefoot Composts and Levington Peat Free with John Innes
Can you tell us where you buy your peat free compost?
Peat Free Plant Nurseries
We also want to see a complete ban of peat use in plant nurseries, sooner rather than later. Nic Wilson has been creating a list of peat free nurseries nation-wide and you can see her list of nurseries here . You can contact Nic directly via her website to get any Cumbrian peat free nurseries added to the list.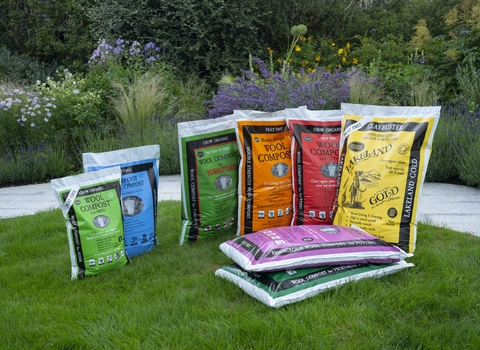 Dalefoot Composts
Dalefoot Composts make peat free composts here in the Lake District. Choose between their Lakeland Gold or Wool Compost. You can buy direct from their website.
Buy from Dalefoot Composts