Welcome to Osprey webcam streaming from Foulshaw Moss Nature Reserve
We hope you enjoy watching the #FoulshawOspreys from the comfort of your home.  You'll be able to watch the ospreys as their family life unfolds in front of your eyes.  Scroll down to view cam.
If you can, please help by making a donation now.   Donate to help now
Whatever you can afford to give will help with the cost for running and maintaining this web cam and to keeping Foulshaw Moss Nature Reserve the wonderful place it is for wildlife. Thank you
Click the play icon to watch osprey webcam.
Having trouble? We're sorry and doing our best to resolve it quickly. Thank you for your patience.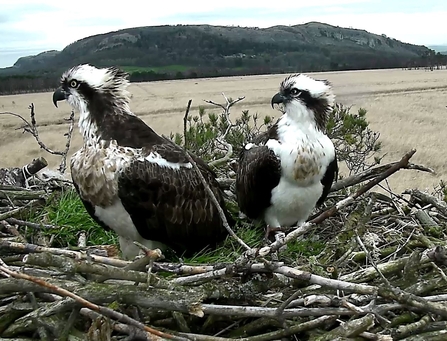 About this breeding pair of ospreys 
The ospreys that favour Foulshaw Moss Nature Reserve near Witherslack as their breeding ground migrate to their wintering grounds in Autumn, most likely West Africa or Europe. 
The male, identified by his 'White YW' leg ring, hatched at Bassenthwaite in 2008. The female, identified by her 'Blue 35' leg ring, hatched at Kielder in 2010.
Join in the conversation
If you have any questions for our Foulshaw Moss Nature Reserve Officer do send them in via our Twitter page using #FoulshawOspreys or commenting below and we'll come back to you as soon as we can.
Had a lovely afternoon at Foulshaw Moss with my two littlest boys and we spotted 5 common lizards. They were thrilled! Love the new boardwalk.
With thanks to:
Langdale based firm Radiata Specialist Tree Services for their support with the nest platform construction and ongoing web camera maintenance.
Swarovski Optik for helping with the purchase of the telescope at Foulshaw Moss Nature Reserve
Individuals and funders who made a donation to make this project possible.
The amazing volunteers who are on-site in all weathers to watch the ospreys and welcome visitors.