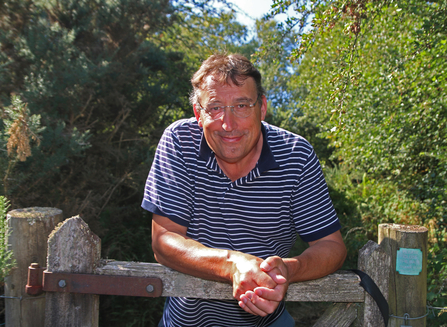 I hope you're well and have come through lockdown safely and in good health.  The last three months have been extraordinarily difficult and I hope that, as lockdown restrictions have eased, you've been able to get outdoors to enjoy the wildlife thrills of late spring and early summer. 
I and the team are really looking forward to welcoming all volunteers back to your active roles working for wildlife in Cumbria. I know that many volunteers are also really keen to get back to their usual activities and to see old friends and colleagues again.
We want to do this as quickly as possible but your health, safety and wellbeing remains our highest priority and concern. My approach is that we should continue to follow the social distancing rules carefully and diligently.  We can only return to volunteering activity where our risk assessments show that we can do so safely and that the risks of disease transmission are avoided as far as possible.
One of the most frustrating aspects of lockdown for me is that it is far easier to 'shut down' activity than to 'start up' again and I suspect the 'return' could be a long and stressful process. Some 50% of the Trust's staff are currently 'furloughed' on the Government's Coronavirus Jobs Retention Scheme, so whilst I appreciate some volunteers are itching and impatient to return to normal, I hope everyone will accept and appreciate that we may not be able to do this as quickly as we might like. 
The Government's rules and restrictions are gradually being lifted and we will attempt to keep up with the complexity and pace with which they change. That said, I've had a good deal of feedback from staff and volunteers with concerns about the continuing high levels of infection around Cumbria and the importance of not 'rushing' the return to normal. So I recognise that there are a range of views on how we should do this and at what speed.
Over the last few weeks, we've already started to support individuals and small groups of volunteers (ie in twos and threes) to undertake tasks that can be achieved whilst complying with social distancing. This has been in close liaison with staff who are still working. For example, quite a bit of essential outdoor survey work and some nature reserve management on a number of reserves has resumed where it is safe to do so. 
At the moment, we have taken the decision not to publish the What's On guide until at least the end of October. This means that there will be no officially advertised work parties until the autumn at the earliest. However, this does not mean that work parties have been 'banned' and the team is very open to organising some ad hoc days as restrictions continue to be eased. Information on these will be shared with regular volunteers later in the summer on the reserves concerned. We will need to consider how people book onto these and ensure that the right tasks and quantity of tools, protective equipment and washing facilities are available to make it work safely. 
The majority of staff who are not furloughed are working remotely from home - and are accessing their emails and telephones. However, because of the confined nature of the buildings, the Trust's offices remain closed for the time being. Some staff are using them - mostly visiting for short periods of time on a strictly limited rota. Unfortunately, this obviously means we can't resume office-based volunteer roles just yet.
We have a number of Covid-19 generic risk assessments for outdoor and indoor work (available on request) as well as a number of mobile hygiene kits for use in the field. 
One important exercise which will be necessary is to identify, by self-assessment, any volunteers who may be high risk and particularly vulnerable to Covid-19. We've already completed this for staff and I propose to ask returning volunteers in some specific roles to complete a short confidential questionnaire too. This is simply so that we can work with individuals to take additional steps, if necessary, before resuming certain volunteering activities.
Since the last newsletter, all of our car parks have reopened (NB the nature reserves remained open to visitors on foot throughout the lockdown period). Fortunately none of our sites have experienced the high levels of anti-social behaviour that were reported at some honey pot locations in Cumbria and the Yorkshire Dales. But at Foulshaw Moss Nature Reserve, Paul Waterhouse has introduced a one-way system for visitors on the boardwalk. All hides and enclosed spaces remain closed so that social distancing rules can be met safely.
The communications team has been as busy as ever, particularly using social media to engage with members and the wider public. The levels of activity on our website, webcams, Twitter and Facebook have increased dramatically over the last few weeks. If anyone has any stories of wildlife during lockdown that you'd like to share, please do let us know - and we're always keen to hear about any humorous incidents to relay to a wider audience.
I would particularly like to draw your attention to an event the team is organising. Averting The Insect Apocalypse, an exciting live, online lecture on pollinating insects by the well-known bumblebee expert, Professor Dave Goulson, is scheduled for 1 July. This is a free event but you will have to register as places are limited. Book here.
If you have any queries or comments on any of the Trust's arrangements for returning after the Covid-19 pandemic, please do let me, Judith or Joe know. We're really keen to hear from you. The situation is changing rapidly and I am keen to hear from you about whether you think we've managed to take a balanced approach to the situation. All comments are very welcome and we're happy to review and change the approach to accommodate views, so long as we can do so safely.
Finally, I just wanted to say how much we appreciate the fantastic work that you do for wildlife in Cumbria.  Thank you for all of your support and hard work to make Cumbria an even better place for people and wildlife.
In my view, the vital need for our work has not gone away. Our mission to safeguard the county's remaining wildlife and promote nature's recovery where habitats and species have been damaged or lost, is still of the utmost importance and urgency. None of this has been changed by the Covid-19 pandemic and I look forward to resuming our work together as we emerge on the other side.
Best wishes and good health
Steve
June 2020