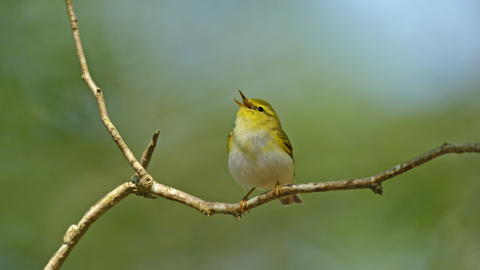 Birds for Beginners is back! Learn to ID birds in 2022 with our Senior Education and Volunteering Officer, Jamie Normington.
About the event
Join us for a special series of events focusing on bird identification.
This is a great opportunity to discover methods that'll help you ID birds when you're out and about, with each event building on knowledge gained in previous sessions.
The course runs once a month over three months, giving you the opportunity to put your new skills into practice!
Session 1 - Tuesday 18 January 2022 - The big garden birdwatch
In the first session in the series, discover how to build your recognition of the birds you can easily see and hear in Cumbria's gardens, parks, towns and the wider countryside.
Session 2 - Tuesday 22 February 2022 - Spring bird song 
Don't worry if you missed part one – we're stepping into the wider countryside, where we'll soon discover garden birds like Cumbria's fells and woodland too. It's where many of them lived before we had gardens, after all. But there's now much more to discover, as nesting gets well under way and bird behaviour gets wild!
Session 3 - Tuesday 15 March 2022 - Migrating birds
Building on the first two sessions, our range of local birdlife is similarly growing as globetrotters come to visit their spring and summer homes, while winter visitors depart. Birdsong is at its best now – don't wait 'til May when the dawn chorus starts to come far too early…
This event takes place online, so you can join Jamie from the comfort of your living room. We expect it to last around an hour, including time for questions at the end.
Can't make one of the sessions? Don't worry! As long as you're registered, we'll automatically send you a recording of each session afterwards to watch at your leisure.
We recommend a minimum donation of £7.50 per device for this series. Tickets are limited, so please book in advance. The talks will be streamed live via Zoom and details of how to join will be provided when you book. Please read the confirmation email carefully.
You only need to book once to gain access to all of the sessions. 
Photo: Wood warbler by Andy Rouse