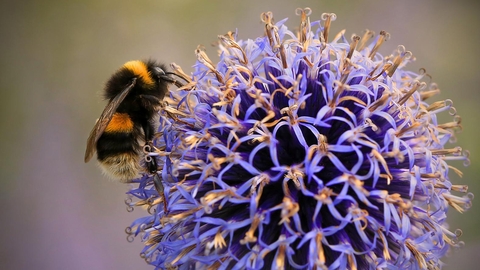 The importance of pollinators
Location:
Get Cumbria Buzzing VIRTUAL EVENT,
Online, Digital Event
Book
Join Steven Falk, one of Britain's leading natural historians, for a talk about pollinators, their habitats, and how you can support them.
About the event
Steven Falk is one of Britain's leading natural historians with wide-ranging experience within the fields of nature conservation. Join him for a fascinating talk about the different sorts of pollinators, the main habitats they use, and the main things you can do to support them.
The event will take place online, so you can join Steven from the comfort of your living room. We expect the session to last around an hour, and there will be opportunity for any questions. All you'll need is a laptop, desktop PC, or smartphone!
Tickets are limited, so please book in advance. 
 
Thanks to National Lottery Players and support from the National Lottery Heritage Fund, Highways England, Cumbria Waste Management Environment Trust, Rees Jeffrey's Road Fund, Cumbria Community Foundation, Tesco, Allerdale Borough Council & Solway Coast AONB. Administered by Cumbria Community Foundation, the following organisations have also funded the project: Robin Rigg West Cumbria Fund, Fairfield Wind Farm Community Benefit Fund, Winscales Moor Community Benefit Fund and United Utilities Legacy Fund.
This event is part of our 'Get Cumbria Buzzing!' Project. Head to these webpages for more information:
https://www.cumbriawildlifetrust.org.uk/getcumbriabuzzing
https://www.cbdc.org.uk/recording-wildlife/share-your-records/
Booking